During Fresh Air Friday, we collected natural materials, thinking carefully about the different colours, before bringing them back to the classroom to create pictures using a natural colour palette.
During Fresh Air Friday today, we continued with our Mesolithic Shelter Project. The children worked together to collect turf, before applying it to the walls of the shelter. This was not an easy task and the children worked well as a team to problem solve.
Our new Science topic is Electricity. We have explored electricity and recorded our observations. We quickly discovered that we had to make sure our circuit didn't have any breaks in it in order to make the bulb light up or the buzzer buzz. We discussed the fact that metal is a conductor just like our bodies and briefly looked at free electrons in conductors and the difference between conductors and insulators.
We met the judges of the Manifold Valley Agricultural Society Environmental Competition to discuss our entry for this years competition. The children would like to plant out the beds that run alongside the classroom windows in order to attract local wildlife and learn about our local birds.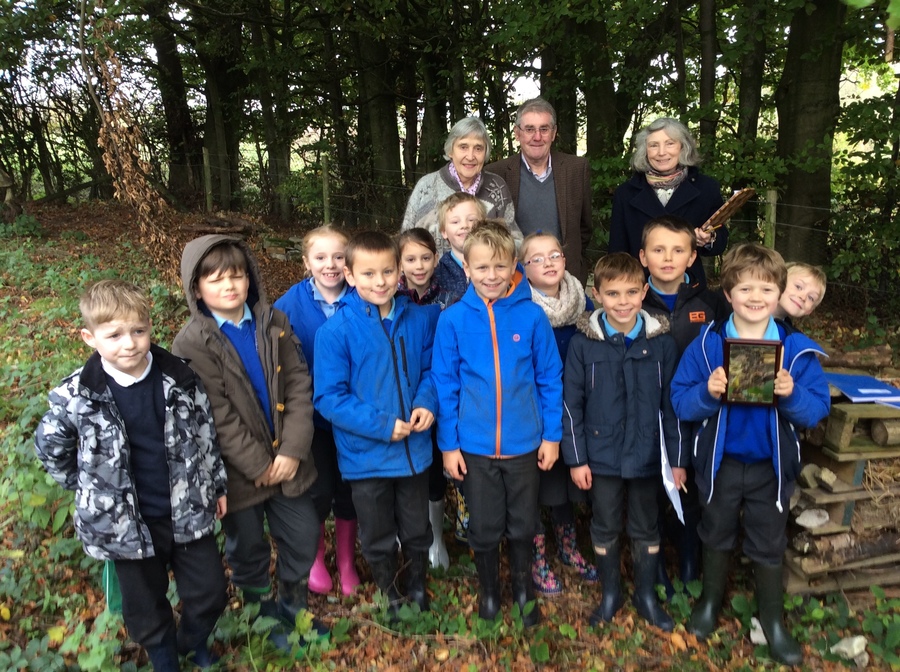 Today we had our English lesson down in our outdoor classroom, we first shared the story 'The Tadpole's Promise' before using this as inspiration to write our own story about the creatures who lived in our pond.
Thank you to Belle Engineering for our new wheel barrows! The children enjoyed using them to work as teams to fill the flowerpots on our front drive!
Children in Years 3/4 have been thinking about the first Britons. Children were very excited to learn about Doggerland - an area now beneath the southern North Sea that connected Great Britain to continental Europe. The children's main studies centred around the Mesolithic period with children designing and building Mesolithic shelters and making Mesolithic stew!
The children studied the text, 'Stone Age Boy' as part of their work. Children produced recounts, instructions and stories based on the text.
We set up our own archaelogical dig on the school field as part of our Learning Challenge curriculum, 'Who first lived in Britain'?
We looked at Stone Age artwork, we discussed the difference between Neolithic and Palaeolithic artwork, before making our own paint from rock and creating Palaeolithic cave paintings and carving Neolithic patterns onto standing stones.

During Fresh Air Friday we read a story about Old Bear's escape from the attic. The children were given bears to work together to create and then act out their own adventure story.
Today we were hunter gatherers, we collect nettles and apples before combining them with other ingredients to make Mesolithic Stew. We established that food would have been different in the Mesolithic as they had to hunt and gather rather than just visit a supermarket. We also discussed the importance of knowledge, as many plants are poisonous, and how this knowledge would have been passed down through generations.
Building a Mesolithic shelter in preparation for writing instructions in our English lessons.
During Fresh Air Friday the children were challenged to work as a team to build the tallest tower. They thought carefully about the shapes used in tall structures and applied this to their structure. They quickly realised that triangles worked much better than linear shapes.
Forest School fun at Lane Head Farm