Keeping children safE
SAFEGUARDING:
SAFEGUARDING and keeping children safe is our number one priority. We follow the government advice: What to do if you're worried a child is being abused.
All rooms including toilets, display useful contact numbers for the safeguarding team, police, Ofsted
We have designated adults in place. Janette Mountford-Lees (Executive Heateacher) is the designated safeguarding lead. Diane Beardsmore(Chair of governors) is the assigned governor and assigned trustee.
All staff and governors have undertaken statutory training. The designated lead completed level 4 training (October 2019). All staff have received a copy of the governments document: Keeping children safe in education. Staff have completed level 1. A refresher course is scheduled to take place annually.
A safeguarding policy is in place and followed by all adults. This is shared with supply staff and volunteers. Each classroom displays the procedure to be followed.
We have trained first aiders (including paediatric, emergency first aid and first aid at work)
We ensure all staff follow rules for use of phones in school. A school mobile is provided for trips and educational visits.
We ensure all visitors follow rules for use of mobile phones in school.
We seek permission for all children before we take any photographs/recordings.
We work closely with the Police.
We follow guidance for safer working with children.
We have risk assessments in place for all trips and visits and aim to send information to parents/carers regarding trips with sufficient notice.
We follow safer recruitment processes when employing new staff. Diane Beardsmore is the named governor with safer recruitment training.
All governors, staff and volunteers are subject to disclosure and baring service checks.
We follow procedures for Children Missing Education

We have an Anti-Bullying policy followed by all adults and communicated to children

We have an Online Safety policy followed by all adults and children are taught how to be safe online

We follow advice on safe and appropriate forms of communication using mobile devices

We have undertaken and ensured that all staff and governors have accessed 'Prevent' training
Please note - We have a safeguarding policy that can be found on our website or requested from the main office. Please note - we have a legal duty to assist our colleagues in other agencies with child protection enquiries and what happens should we have cause to make a referral to the relevant local authority or other agencies.
WE ARE ALL RESPONSIBLE FOR SAFEGUARDING!
If you suspect that a child is vulnerable, you should contact:
Local Response Service (Staffordshire County Council): 0800 13 13 126
Police 999 (emergency) or 0300 123 4455 or 101 (non emergency)
Emergency out of hours duty service -Staffordshire: 0345 6042886
Email: firstresponse@staffordshire.gov.uk

"The arrangements for safeguarding are effective. The school's procedures meet all statutory requirements. Leaders have made sure that all staff are familiar with child protection guidance and have been trained to an appropriate level. Records are well organised and kept securely. Staff are vigilant, and aware of how to identify and report any concerns about a pupil's welfare. The small size of the school and the strength of relationships help staff to recognise when pupils are unhappy or showing signs of stress. Leaders work effectively with parents and other agencies to support those pupils whose circumstances make them potentially vulnerable." Ofsted, June 2018
PREVENT
Schools also have a duty to report concerns they may have regarding the potential for a child or young person to be at risk of developing radical or extremist views. As such the school has adopted a policy which outlines its duty in relation to PREVENT.
At Manifold Church of England Academy we take a proactive approach to identifying and responding to radicalisation. Staff and governors attended a Prevent training session in October 2019. A refresher course is scheduled to take place annually.
At Manifold Church of England Academy, it is the duty of all staff to inform the Designated Safeguarding Lead if they are made aware of or themselves make a judgement that a child in their care may be subject to or be vulnerable of radicalisation. Information may be shared with appropriate outside agencies, including social services, the Police and Counter Terrorist agencies.
If you have concerns about any of your friends, neighbours or relatives, report it here:
If it's an emergency, please call 999.
You can also email the Prevent Team or call them on 01785 232054.
Or you can call anonymously on 0800 789 321.
If you see online material promoting terrorism or extremism, you can report it online
Operation Encompass:
https://www.operationencompass.org/why-was-operation-encompass-created
Operation Compass - Parent Letter - Jan 2021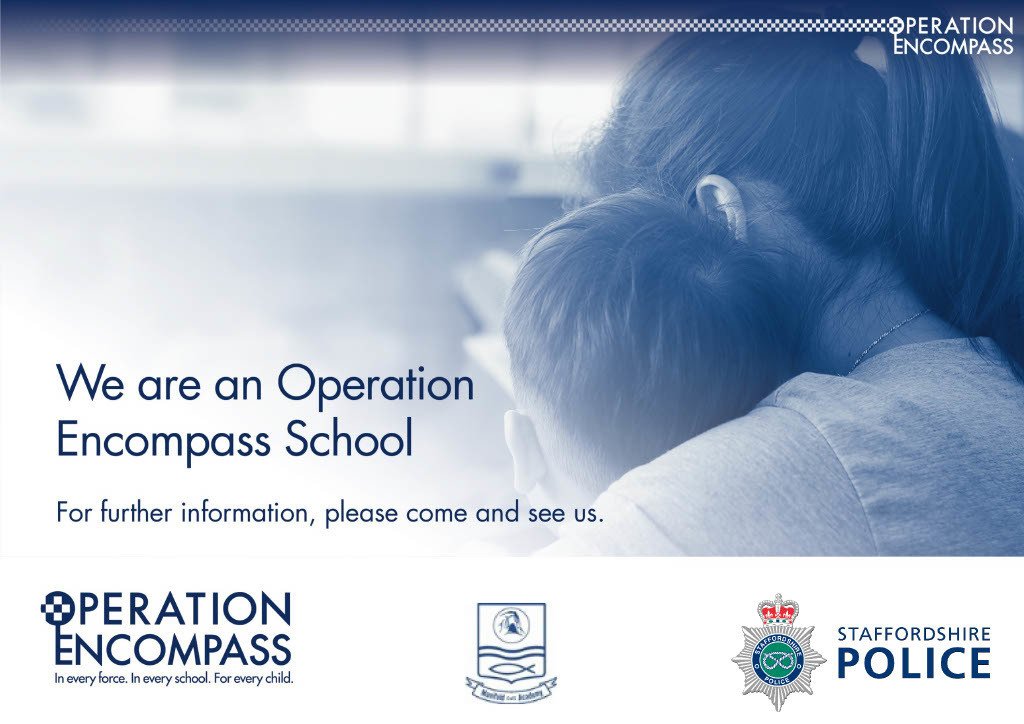 Child Exploitation Awareness Day - 18th March 2021
| Name | |
| --- | --- |
| Catch22 Flyer Stoke Staffs CSEMFH.pdf | Download |
| Know about grooming young people.pdf | Download |
| NWG-Awareness-Day-Poster-Naive.pdf | Download |
| NWG-Awareness-Day-Poster-NoChoice.pdf | Download |
| NWG-CSE-Spot-the-Signs-Poster.pdf | Download |
| positive-relationships-break-the-cse-cycle.pdf | Download |
| what-makes-up-a-good-relationship.pdf | Download |
Showing 1-7 of 7