Welcome to the Early Years Foundation Stage and year 1
Welcome to the Early Years Foundation Stage (EYFS) at Manifold Church of England Academy. We offer a caring, nurturing and stimulating environment where, through liaison with parents and other agencies, we provide the best start to each individual child's education.
Through play, children can learn at their own level and pace and can explore and experiment without fear of failure. It gives children choice and ownership over their actions and provides concrete experiences, which provide the foundation for later more abstract thinking. Play is learning, and all children have the right to learn in an interesting, creative, enjoyable way.
The learning environment is arranged to provide an orderly, calm and stimulating space in which children can independently find, use and return the resources they require. It is crucial in supporting children's learning and sparking their curiosity and imagination. The children have access to the outside area throughout the day where activities reflect choices within the inside environment. This is to support the different learning styles and preferred learning environments of individual children.
Throughout the day the children's skill development and characteristics of effective learning are observed and significant or new moments of learning are recorded. This is evidenced through written observations, photographs, videos or samples of the children's work. Parents are also encouraged to be involved in this process by recording key learning moments that happen at home. This evidence is collated in the children's learning journals to build a holistic view of each child and the progress that they are making.
Parent Partnerships
We value parents/carers as important partners in our children's learning and therefore believe that it is vitally important to develop and maintain positive partnerships with parents/carers throughout the children's time in school. We believe that good communication between home and school is vital for the pupils' learning and emotional well-being. Each child starts school with a unique set of experiences, gained from home, nursery and in their communities. These experiences are highly valued and enable us to identify next steps in each child's individual learning journey. As parents/carers, you are the children's first educators and as such have unique knowledge and understanding of the children's learning and development. We aspire to combine this with our professional expertise to ensure the children reach their full potential during their time with us.
We are committed to providing a broad, balanced and appropriately differentiated curriculum within the framework of the EYFS curriculum.
Through play, children can learn at their own level and pace and can explore and experiment without fear of failure. It gives children choice and ownership over their actions and provides concrete experiences, which provide the foundation for later more abstract thinking. Play is learning, and all children have the right to learn in an interesting, creative, enjoyable way.
The learning environment is arranged to provide an orderly, calm and stimulating space in which children can independently find, use and return the resources they require. It is crucial in supporting children's learning and sparking their curiosity and imagination.
We work with parents from the beginning to review and set targets for our children to ensure that they achieve as much as they can in all areas of development.
Strong Relationships
Children learn to be strong and independent through positive relationships. At Manifold Church of England Academy, we believe that warm and caring relationships foster a sense of belonging. Staff need to be sensitive and responsive to children's needs, feelings and interests which will support them in their own efforts and independence. Good relationships need to be consistent in setting clear boundaries so children are aware of the expectations and can therefore develop their character dispositions and lead their own learning through play. We also believe that opportunity needs to be given for children to develop relationships with their peers so they can learn to listen, interact and develop communication and language skills that will support them in lifelong learning. Through active play opportunities children will become emotionally literate and holistic wellbeing will progress.
Creativity
We need to teach our children to think for themselves in a world where we can't even imagine what kind of jobs there will be 10 years from now. In a world where almost all information is at our fingertips, it is about knowing how to find it when you need it. The kinds of skills that will get our children through in this "brave new world" are more creativity, self-confidence, flexibility and a love of learning. Through creative thinking children take risks, ask questions, solve problems and most importantly, have a go. At Manifold we strive to provide an environment that fosters creativity through the arts, interactions and a 'what if' approach.
Happiness
Children learn best when they are happy , relaxed and engaged. We believe strongly that children should be allowed to "have a childhood" – providing lots of time for play and allowing them to have fun and enjoy their time in EYFS. Happiness has a direct link to wellbeing and spirited children is the key in supporting them to reach their full potential in Nursery and throughout their school career.
Confidence
When starting at Manifold we want children to come to develop confidence in who they are and what they can do, along with expressing their own ideas. By developing effective relationships we can help children feel valued and special and give them a sense of self-worth. This in turn leads to them being confident with others and knowing when they need support, along with having confidence to try new things and challenge themselves within their own initiated learning. If self belief and self confidence are developed , children will have the robustness to succeed.
Feeling safe and secure
Ensuring that children feel safe and secure within our provision is a key priority. When children feel emotionally safe and secure they are able to explore and find out about the place they are in. Environments are not just physical spaces; they are the atmosphere created through warm and caring relationships, where children are respected and valued and their well-being comes before anything else. In these environments children's voices are listened to and they thrive socially and emotionally.
Investigation
We strive for our learning environment to promote investigation and enquiry based learning through open ended resources and enhancements to the continuous provision. We believe that if children can ask questions and investigate how things work, they will develop a deep understanding about concepts that will support their learning throughout their school journey. Children can therefore build upon their skills and knowledge and challenge their own thinking further.
Pupils and staff have spent the week singing and learning nursery rhymes! They focused on Humpty Dumpty to begin with. The children decorated plastic eggs, then built walls using different resources and had to find the most stable/best wall for Humpty to sit on. The children then went on to make their own versions of the Rhyme using their rhyming knowledge. We had some very funny versions of the nursery rhyme! Their was also a very special Birthday in class this week! Kipper was 5! The children had to make 5th Birthday cards, (focusing on the formation of 5) they had to set the party table for 5 people and also put 5 candles into their play-dough cakes. Enter text...
Week commencing 12th October 2020
This week's activities included: freeing Rapunzel from her tower (fine motor skills), sorting superheroes according to size and learning about a real life hero, Florence Nightingale. Year one have been looking at number bonds to ten while reception have been introduced to the equal sign. Pupils had lots of phonics and word reading opportunities. They rounded our week off with a trip to the woods and some yoga where they made a number line using conkers.
This week pupils based their learning around the text 'Supertato'. Pupils received a letter from the Evil Pea informing them that he had kidnapped Supertato. This led to letter writing and making traps to catch the Evil Pea. Pupils explored different ways of getting vegetables out of ice. They strengthened their fine motor skills through a range of actcviities including getting peas out of their pods, mashing peas... Pupils sorted fruits and vegetables according to size, shape, type, colour. Other activities included wearing yellow as part of #hello yellow - raising awareness of mental health. Pupils joined in with meditation and yoga.
Class one have ben looking at different fruits and vegetables. Inspried by Arcimboldo, children created some faces. They also applied their skills when creating potato heads, inspired by Mr Potato Head. Children followed instructions to make (and eat!) ham sandwiches. They planted bulbs then made scarecrows to keep the birds away.

Class one have been learning about the five senses this week. Activities included:
making and tasting pine needle tea after a visit to the woods (taste)
listening walks and playing listening games (hearing)
playing hide and seek, making view finders and exploring the world through these (sight)
making salt dough faces after exploring leaves and twigs in the woods (touch)
making potions using items collected in the woods plus a varity of spices and smelly items (smell)
Class one have been very busy this week. An 'accident' on the building site led to the emergency services being called - cue a make shift hospital being set up in the role play shed outside. This also led to us singing, 'Dem Bones' and reading the book 'Funny Bones'.
A trip to the woods saw us:
- exploring and making dens
- creating stories using leaves. We had leaves that were boats, beach balls, umbrellas... lots of opportunities for language and communication skills
- comparing leaves and sticks (mathematical vocabulary)
- talking about many things including extinct - animals and needing trees to breathe amongst other things.
We had great fun when we had a number hunt using our #Tagtiv8 numbers 0-20. After finding the numbers, we used them to make number lines. (Physical education meets maths.
Traditional tales.
We have been looking at traditional tales. We built our own castle out of a large cardboard box to help us to retell Jack and the Beanstalk. We also saw a mysterious giant Beanstalk growing in the playground, thanks to the CCTV! We have enjoyed planting our own beans and watching them grow.
Dinosaurs!
We have been looking at books about dinosaurs this week. We found a suspicious egg in the woods which lead to loads of questions about dinosaur eggs. We had to go on the computer to find some answers. We also found some dinosaur footprints with numbers on and took turns at putting them in the correct order.
On Thursday we found a couple of videos showing a dinosaur passing through our school grounds before going down the drive and out of the gate!
Three Billy Goats Gruff.
This week we have been reading and retelling the story of the Three Billy Goats Gruff. We have also been enjoying our role play area, which has been turned into a pretend school. The children have enjoyed playing at being teachers and writing names in registers.
We have been playing counting games and using counting software on the computer.
On Thursday we thought about the Diwali celebrations and coloured in some different patterns.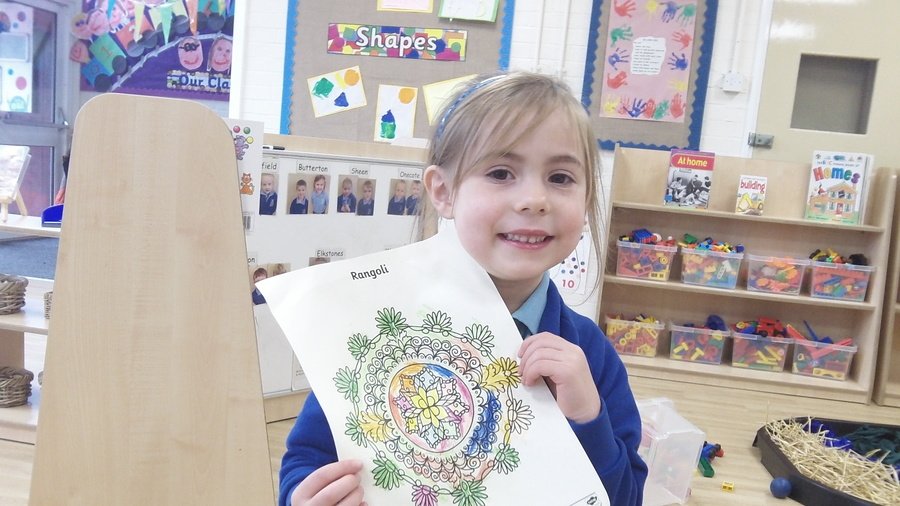 Run, run, run, as fast as you can!
We have had a busy week. We have been looking at the story of the Gingerbread Man. The children asked to bake some so we all had a go at baking. When we went to get them out of the oven they were gone! When the children had gone home we checked the CCTV and discovered footage of them breaking out of the oven and running off! We made "Wanted" posters, set some traps and managed to hunt them down the next day. We ate them before they could run off again.
We have also been having fun in the Hall using the new Tagtiv8 equipment to play maths games.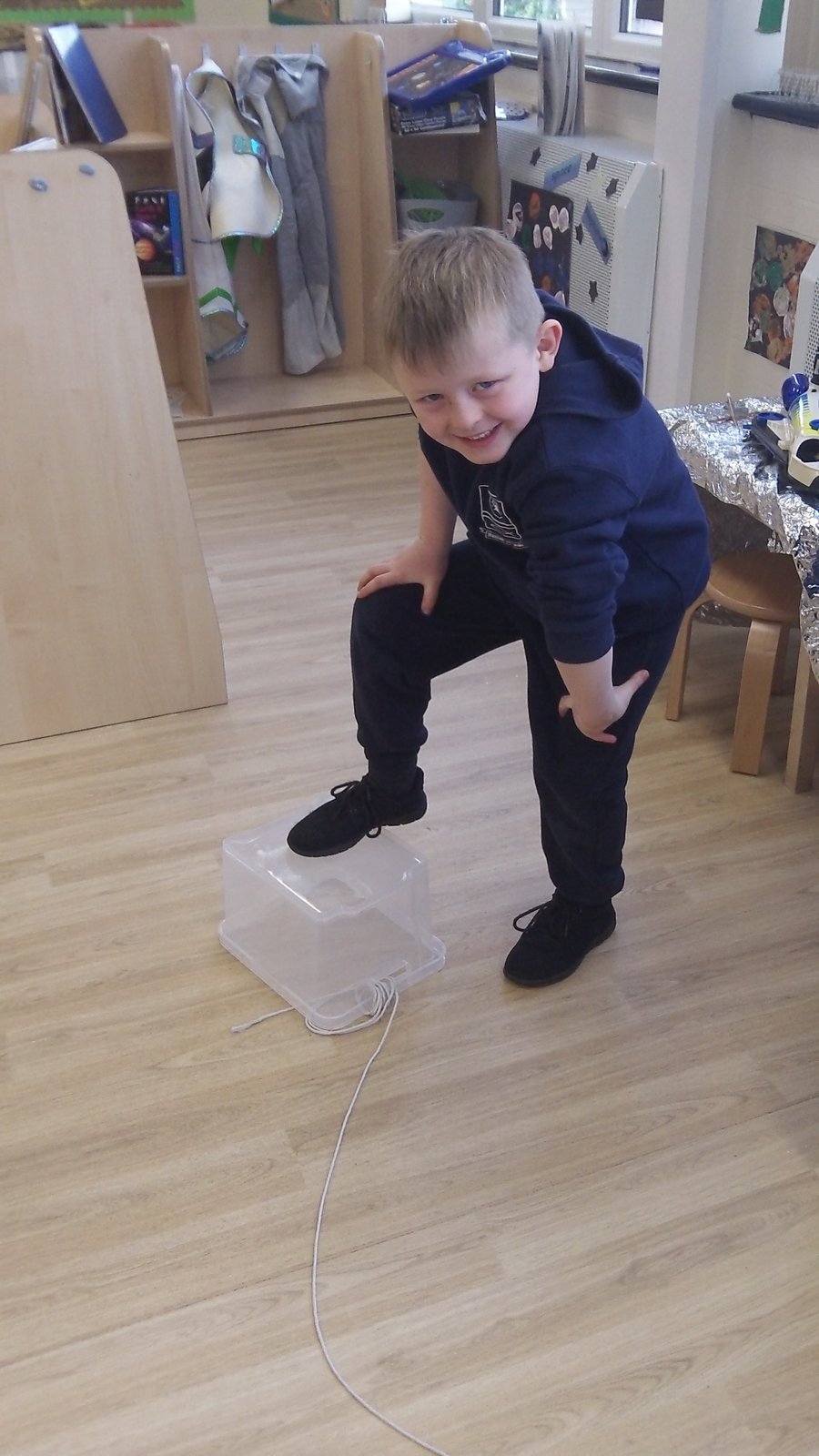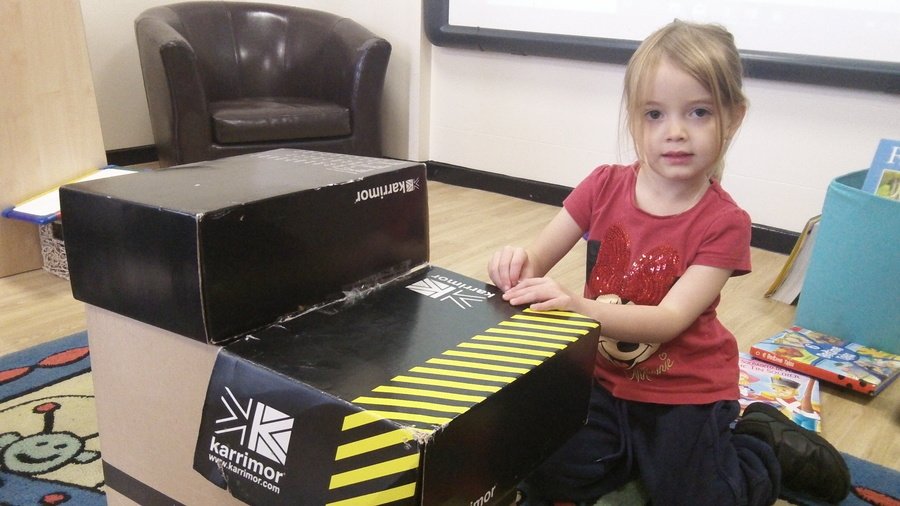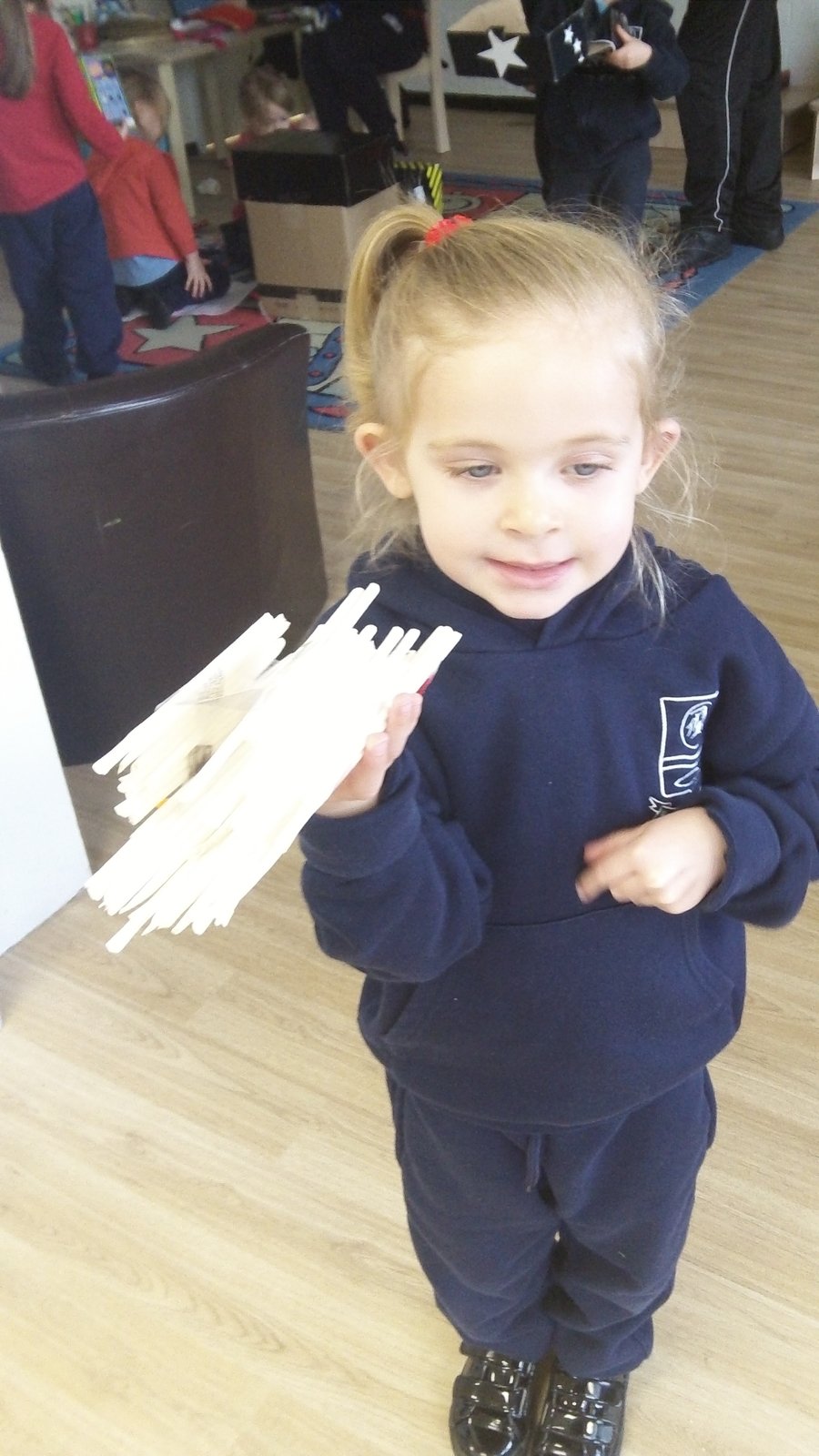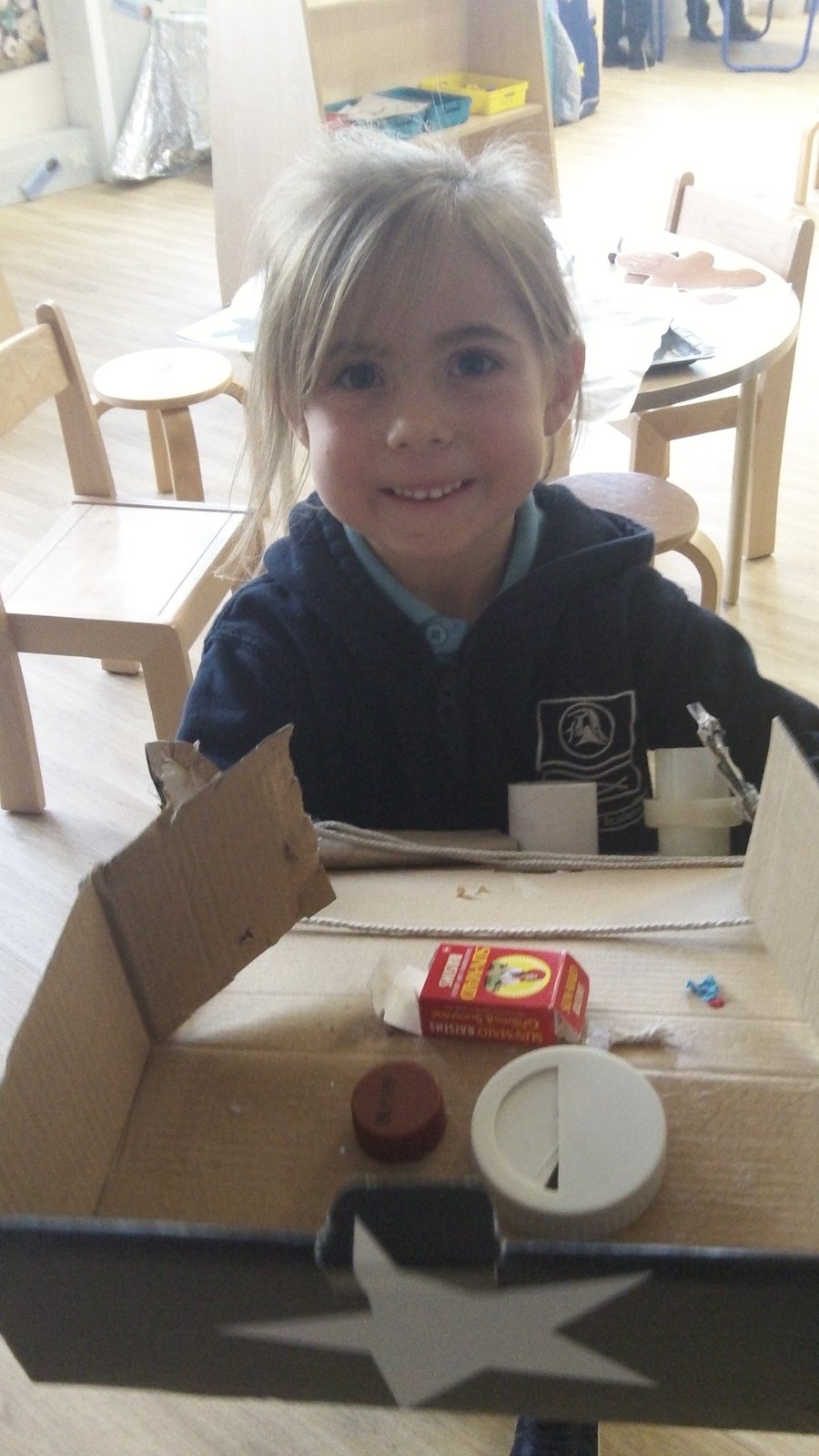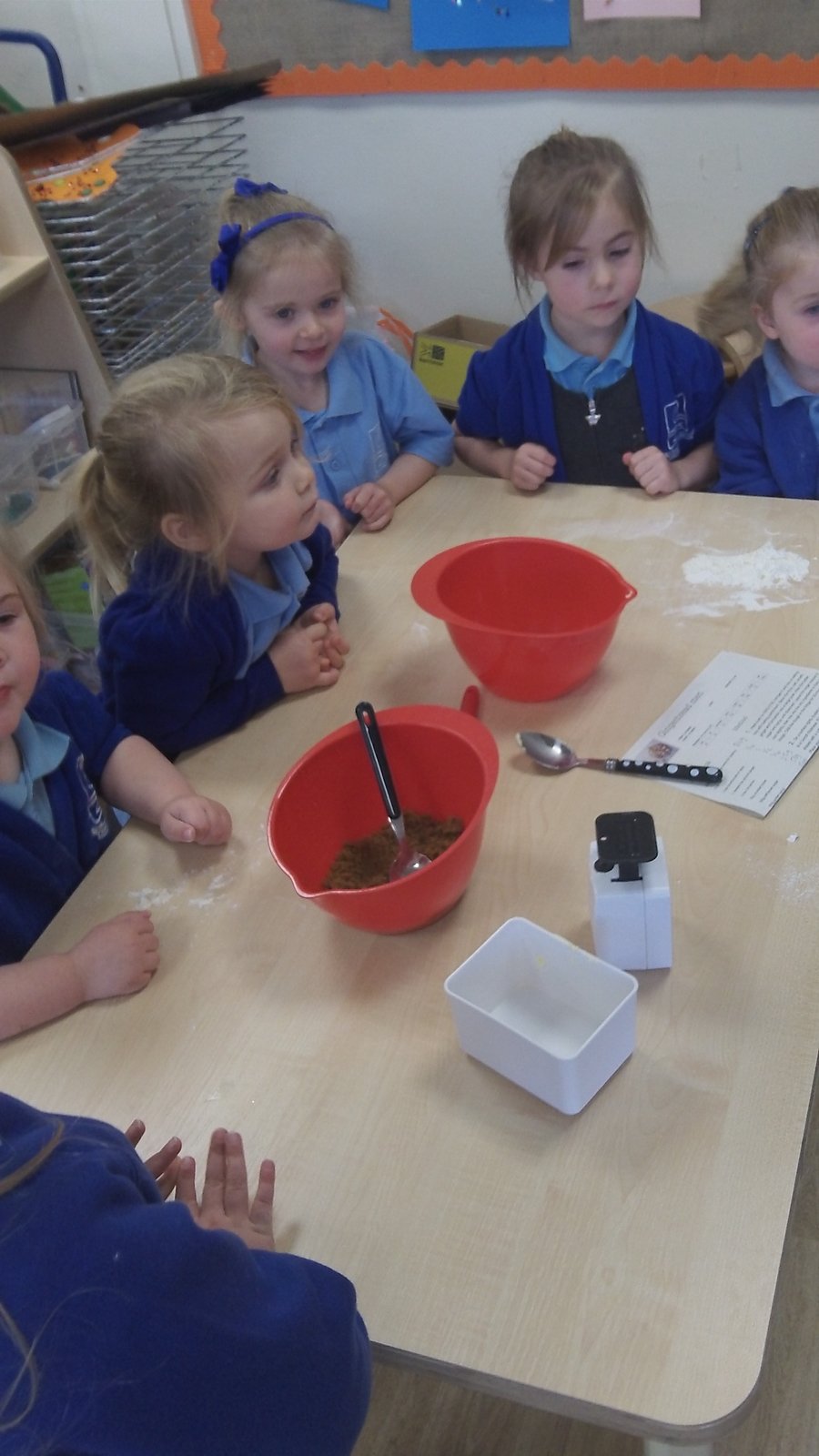 Space exploration.
This week we have continued exploring space with the book "Man On The Moon" by Simon Bartram. We have made planets out of balloons and created our own solar system in the classroom. We have also been using different 2D and 3D shapes to make our rockets to fly into space.
A small lizard came to our classroom to visit and we had fun finding out about what it needs and where it would live. We drew pictures of it before releasing it back into the woods.
We have been preparing to go to the moon this week, basing our activities on a book the children have chosen called "Whatever Next!" by Jill Murphy.
We have been making our own improvised rockets and spacewear. We are currently making our own models of the moon using balloons, glue, paper and paint.
Earlier in the week the children helped to make a space station in our outdoor area.
The children have also turned the sand pit into the moon, complete with astronauts. They did an experiment to find out how to make different craters in the moon's surface by dropping different sized stones and pebbles into the sand from a range of different heights.
We're going to catch a big one...
This week we have been using the story "We're Going On A Bear Hunt". We went on a bear hunt in the woods and found 5 bears! The children have transformed last weeks Three Little Pigs house into a Narrow, Gloomy Cave!
We have also been making houses using different 2D shapes and making pictures by stamping shapes in paint.
We went out in the pouring rain this afternoon and found a very wet bear called Max!
The Three Little Pigs.
We have been looking at different versions of The Three Little Pigs this week, and making up our own versions including The Three Little Rabbits and The Three Little Cats!
We all built houses for the pigs and got a wolf (AKA a hairdryer!) in to test them and see which could be blown down.
This week we have been continuing thinking about where we live and our families. The week has concluded with a Teddy Bears' Picnic in the woods! The children enjoyed a picnic snack and then used sticks to build dens for the Teddy Bears. Then they collected sticks and had fun sorting them into order of size, using terms such as "longer" and "shorter".